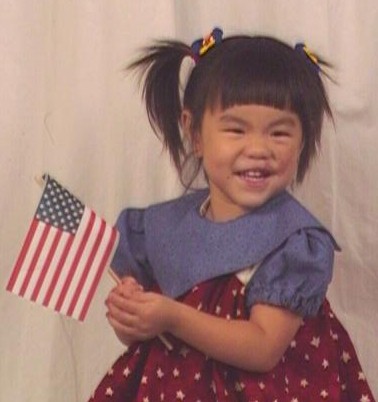 Emma's Story
by Rod and Shellie Smith
&copy 1999-2023 Rodney A. Smith
All rights reserved.
Site Map
Emma was born in China on or about January 10, 1998. We adopted her in Nanning, China, on March 1, 1999. It took us more than a year to adopt her. For the short version, see Emma's Timeline. To read about how we adopted a sister for Emma, see Ellianna's Story. We adopted Nathaniel from China in 2005.
In January of 1998 we made the decision to start a family of our own. Rod has two grown children from his first marriage. That same month Emma was born in the Guangxi Province of Southern China. For her first three months she lived with her birth family.
During that time we explored open adoption and adoption through the State i.e. foster children. We were not comfortable with either of those possibilities so we decided on foreign adoption. We learned that China has the healthiest babies available for adoption. In April we filed an application with Immigration and Naturalization Service and were fingerprinted. In April and May we were fingerprinted three times for criminal checks necessary for the adoption process.
When Emma was almost three months old, she was found on the side of a street, not in a field or hidden place where she surely would have died, but on a busy street where she was found and taken to an orphanage. Perhaps she was left there because she had an infection on her cheek and needed medical attention. Most infants are left in an obvious spot even though it greatly increases the parents chances of getting caught and arrested.
We selected an adoption agency in Hawaii. A very close friend worked for a small Christian adoption agency which used prayer and faith in God to place children in the homes He chose. It was a do-it-yourself adoption. The agency gave us the instructions, support and unlimited time for questions while we negotiated the three months of paperwork. Every birth certificate, marriage license, divorce certificate etc had to be notarized then certified by the state it came from and authenticated by the Chinese consulate. With Rod being from Iowa, we had to order his birth certificate and have it certified by the Secretary of State in Iowa and sent to the Chinese Consulate in Chicago. It took three months of intense "paperchasing" and a close working relationship with the FedEx people and Kinkos to achieve our completion of a "dossier."
Emma's infection was "treated" by the local medical person. I guess he/she decided it was necessary to cut the infection out. Maybe they did not have antibiotics. For whatever reason, this innocent baby at age 3 months was left with a scar on her left cheek which pulled her nose and mouth to the side. When Emma was 4.5 months old, she was transferred from the orphanage she was in to the orphanage where we adopted her. When she arrived at the new orphanage in Nanning she was a hurt, terrified baby. She screamed all the time and was stiff according to the staff. They prayed for her, told her she had value, played with her and loved her.
In June we were classified as a "special needs family." Because Rod already had children we were not eligible for a young healthy child. God worked that one out for us because as special needs we were able to get Emma. It was a horrible pill to swallow at first. We wondered what kind of a disease or handicap we would need to accept with an innocent little child. I am ashamed to say it is not what I had waited 19 years to hear.
My friend from the adoption agency called me in late June and read off a list of children with their special needs. Some had hepatitis B, Mediterranean anemia, cleft palate, heart defects, missing limbs etc. We were horrified to try and choose a child this way, like choosing a car. We were so discouraged and prayed. International adoption is very expensive and then to come up with more money for surgery was scary.
But God had it all planned. A few minutes after the phone call from my friend with the list, she called again. She had just received information of a 4 month old baby girl with a scar on her face, no other problems but the scar. I became so excited! Her age was young and I knew all about a scar on the face. I was in a car accident when I was in my early 20's and had a scar from my hairline to my eyebrow and my ear was shredded and put back together. Boy, I could relate about being young and thinking you are ugly with a scar!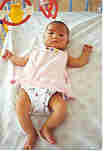 I called Rod at work and we agreed, no big prayer times or Bible searching for the answer, we just knew. From then on she was our baby. Praise God for computers. Our agency notified the founder of the orphanage through email and that started our journey.
This is not how adoption usually takes place in China. Most people don't know anything about the child until they receive a referral from the Chinese Center for Adoption Affairs with a bare minimum of information and a postage stamp size picture of their new child. Then they can accept or reject the choice. The one thing we did not worry about during the next 9 months was if Emma would be given to us. We felt very secure that God took care of that detail.
The orphanage sent a picture to us so we could see Emma and how serious the scar was. I, in my negative way, told myself it would be really bad. Rod did not think it would be bad at all. When the picture arrived I was so relieved. It is not that bad. We can help her adjust or have surgery. Rod thought is was pretty bad and needed to rethink his decision to choose her. We did choose her and decided to name her Emma. The orphanage put "Emma" on her crib along with her Chinese name and the staff started calling her Emma. When we finally adopted her she already knew her name. That is absolutely unheard of in China.
After we chose Emma we received a video of Emma. She was about 5 months old in the video. There were other children in the video that were adopted by our group of five families that traveled together to China. Emma was very tiny in that video. It was hard to watch her, to know that she was your child and here we were so far away. She weighed about 8 lbs at that time. Her scar was red and really pulled her face. We just wanted to hold her. The video was actually very painful and we did not watch it very often.
We began to meet the other families through email. Two families were from Hawaii, one from Hong Kong, one from Montana and us. The other families were ahead of us in paperwork so we were not sure that our dossier would go into China with the other families. Adoption agencies seem to like to bunch families together so they can travel together.
By now we were telling family and friends, showing Emma's picture around and preparing her room. The summer passed quickly as we gathered the paperwork. Finally all of our Oregon documents were together and Shellie drove to Salem to the Secretary of State to have them certified.
The paperwork was now ready to be sent to the Chinese Consulate in San Francisco to be authenticated. We checked and double-checked it, bundled it up and shipped it to San Francisco. In due time, it came back all ready to be translated into Mandarin. We then sent the paperwork to our translator in China. She translated it and sent it back. Now the only thing holding us up was our approval from the Immigration and Naturalization Service.
We were facing a time crunch. The dossier from the family in Montana had arrived in Hawaii and it needed to be sent to Beijing. Our facilitator had much faith in God and believed our approval would come in time for our dossier to be sent with the other one. She had us FedEx our dossier to her without the INS approval. She was scheduled to take the dossiers to the airport in Honolulu in early September, 1998. We had already started calling Senator Gordon Smith's office to see if they could encourage the INS to hurry. They had been processing our application about five months by then. His office was very helpful. But time was quickly slipping by. Our deadline was September 3 by 3:00 PM Hawaii time.
Senator Smith's office found out the approval was in the mail. Each day I stood at the window and waited for the mail truck. Each day no letter from INS. Finally, on September 3rd, Rod and I were crazy with waiting. I have noticed that God frequently likes to bring things down to the wire. It is either to teach us patience or give us gray hair. By now I knew the mailman's approximately timetable. I stood at the front door waiting for his truck down the street at our row of mailboxes. AT LAST he arrived. I ran to the mailbox. The first piece of mail he put in our box was from INS. I grabbed it and ran home. I tore it open and it was the approval! No time for celebrating, I called our coordinator and asked how much time I had. She said "30 minutes," so I raced to the nearest office place to fax it and it arrived in her office in time to make it on the last plane of the week to go to China.
Hurray! I called Rod at work with the good news-we had made it. We were part of the group and would soon go to China to get Emma.
Now we emailed like mad back and forth with the other families. It was really a blessing to share the waiting time with the other families and share information. We thought we would be going to China right away because each child needed surgery and they were expedited referrals. That means it was supposed to happen fast. The last time the adoption agency had expedited referrals, it only took two months to get travel approval from the Chinese adoption office. But we were on God's time and not ours so we did not go as soon as we thought.
We had many delays and false starts. In order to go to China you have to have a visa from the Chinese Consulate. Each visa lasts 3 months. We all ordered visas right away but we would do that again twice more before we actually went to China.
Emma was transferred to a foster family in September. This orphanage fosters out the babies after they are about 8 months old. It is better for the babies to have that one on one contact. The foster mothers bring the babies back to the orphanage each month for a checkup. We hated that important decisions for Emma were being made and we were not involved at all. We knew it would be best for her. We were told of her progress from time to time so we were not totally in the dark.
The waiting was rough. Her room was ready and we packed our suitcase several times and just waited. We finally packed what we could and left the suitcases in her room. As each delay happened the suitcases were scooted further out of sight until they were under her crib. It was a time of trusting God. Two of the babies could have become critically ill at any time while we waited. God was watching out for each child.
The lowest time for us was just before Christmas. There was a short window of time we could go to China before Christmas and not get tangled up in the Chinese New Year. Traveling would be expensive and difficult at that time. Our coordinator suggested we apply again for our visas. It was the last week of the term. Finals and papers were due and Rod was in the middle of the Christmas rush at his job. I was trying to finish a paper at Marylhurst College where I attend when I noticed the time. I raced to the bank to get a cashier's check and then to Mailboxes Etc to send in the application for the visas to San Francisco. As I tried to cross the street, the FedEx truck drove by. I missed my chance. I sent the application anyway hoping there was still a chance we could get it in time. Unfortunately, in the confusion I forgot to put our passports in with the application. Can't get a visa without the passport. There is no where to stamp it! I sat down and cried.
We knew then that we would not have Emma by Christmas. Her birthday was January 10th so we would miss that also. We cried out to God many times during that time. That was followed by a peaceful month. We knew that until the middle of February we would not be traveling so we relaxed as much as possible. It was our last Christmas without Emma. She had presents under the tree and we took pictures of each of us opening something for her. She will know she was a part of that celebration.
On January 14th, we received word that the adoption office in Beijing had approved all of the adoptions for each family. We were each referred the child we asked for. Another hurdle cleared. We knew it would not be long now. We pulled out the suitcases and packed again.
I will never forget the day in February that our coordinator called and calmly told us "This is it! Call a travel agent. You are going to China in two weeks! I called Rod at work and said "Guess what Daddy?" We quickly sent off another visa application, with the passports this time, to San Francisco, made travel arrangements and hunted around banks for $7000.00 worth of new $100.00 bills required for the trip.
We had a seven page list of stuff to take. We really needed a mule or two. We spent several months gathering all the stuff to drag to China and spent the time in China trying to get rid of it. When we left for the airport in Portland we had two large suitcases on wheels and we each had a backpack. The money we divided up and wore under our clothes.
The trip was long as expected. We traveled from Portland to Seattle to Japan to Hong Kong. The trip from Seattle to Japan was entertaining. Being in the air for so many hours, I think the flight crew does not know what to do with the people so they keep feeding them. We had breakfast, dinner, snack, breakfast and another snack. At the end of the flight I could hear the crew rattling around in their kitchen. I told Rod that if they tried to feed us again I was going to jump off!
We arrived at our hotel in Hong Kong about midnight after travelling 28 hours. We were up early to catch the 8 am. shuttle to the airport. We met four families that were on their way to Nanning to adopt. We had been in touch with three of the families by email since last fall. One family did not get travel approval until two days before. We flew to Guangzhou (Canton), and met the family from Montana, and Maria, our translator and guide. She is tiny but mighty. When she was at the baggage counter, persuading then to handle our baggage a certain way, she was up on her tiptoes. Then she stepped up on a rail so she was taller than them. She convinced them. We arrived in Nanning about five and the shuttle bus from the Majestic Hotel was waiting for us to drive us the twenty miles into town. We sat up front and got to watch large truck loads of sugar cane and rock, small pickups and carts being pulled by what looked like a large, self propelled rototiller without the tines. There were many motorcycles and bicycles, and we saw four water buffalo. The road was concrete but it went up and down. I could tell why the shocks on the bus were worn out. Traffic was heavy when we got to town. Fortunately for us, right of way is determined by size so the cars, motorcycles and bicycles got out of our way. The bus would avoid the stragglers, but by only enough to just miss them.
The Majestic Hotel is a very nice, five star hotel, about four years old. The staff all speak English, at least well enough that we were able to communicate easily. It has a business center that gives email access. The rooms are fully furnished with TV and refrigerator. The only difference from an American Hotel was that the tap water was not treated, so we had to shower with our mouths shut and brush our teeth with bottled water. Room service provides an endless supply of hot drinking water in an insulated pitcher and bottled water in the fridge.

We waited until Monday morning, March 1st, to go to the orphanage for the babies so they and we would be fresh. Six families and two guides rode in the hotel bus to the orphanage. We were ushered into a room where the orphanage director described the orphanage program through our interpreter. We signed papers and received all the information the orphanage had on our baby. We also received the top that Emma was wearing when she was found. The first orphan brought in was five years old and was happy to meet and be with her new parents. The next four were 18-24 months old and they cried loud and long, for at least two hours, but we had been warned by the orphanage director to expect it. Emma's foster mother was about 20 minutes late to arrive. She had to bicycle with Emma on her back about 8 miles across town. We saw her arrive and she pointed us out to Emma and said, "Mama." When Emma was placed in our arms, she joined the other babies and cried loud and long. We were happy to have her in our arms at last, but sad that she was so upset. It took Emma about an hour to stop crying, and that was shorter than the others, maybe because she was the youngest at 13.5 months. The babies were still crying when we got back on the hotel bus. As we drove away, the foster mothers were by the front door, crying too. We peeled five layers of clothes off of Emma and dressed her in a pretty pink outfit. The first stop was the Justice office in charge of adoptions where we were interviewed and approved to adopt Emma. The second stop was the Civil Affairs office to apply for Emma's Chinese passport. The third stop was back at the hotel. Emma finally cried herself to sleep by the time we got back to the hotel. When she woke up, she was happy to be with us, and we enjoyed playing together.
Emma is a happy baby. When I tickled her feet, she laughed and kicked her feet. She loves to play peek-a-boo. She is also very vocal. She smiles when we talk to her and talks back. She also has a temper. She does not like us to dress or undress her. Her 12M clothes are a little big so it looks like we can still use some of the smaller clothes that we bought.
We shopped and went sightseeing for the next few days while we waited for the passports. We went shopping on Tuesday at two large department stores. We found the best shopping at the most reasonable prices of the whole trip. We found some tops and pants and some shoes. None of the three pairs of shoes that we brought would fit because she has fat little feet just like her big brother Ryan had. We found a style of size 3 tennis shoes that fit.
She has a good appetite. Breakfast is her big meal of the day. We fed her scrambled eggs and fruit in the hotel restaurant. One morning, we were too slow with the food. She kept reaching for the plate. Finally, we cut the food into small bites and let her feed herself. She did pretty well. When she had cleaned the plate, there was a circle of eggs and fruit with a happy baby in the middle.
On Thursday, we went back to the orphanage to get a tour of it. There were about 40 babies in clean rooms with lots of toys and music, and about eight caregivers. There was a large laundry room and lots of diapers hanging out to dry. There was a room with three ladies folding diapers, about 1,000 per day. There was a lawn area with thirteen white marble crosses and a granite marker for each of the children who had died at the orphanage. This orphanage took in sick children from other orphanages to nurse them back to health so they could be adopted. The crosses were donated by a couple who had been approved to adopt a child, but the child died before they could come for her.
Thursday afternoon, we visited the apartment of Emma's foster parents. It was a two room apartment and sparsely furnished. They insisted that we sit on the only couch. It was full of neighbors and babies, and lots of joy. They gave us a tour. Emma's bed was in a corner of their bedroom, next to the window overlooking a green marsh. There was so little green or flowers in the city. Most apartments just overlooked other apartments. Since plants and flowers are so important in our lives, we thanked God that He provided even the little things for Emma. In the bedroom a radio softly played Chinese instrumental music that Emma listened to when she fell asleep. Emma was happy to see the foster parents. She stayed in their laps the entire visit. They were a retired couple who had fostered four other babies. We talked through an interpreter and took pictures. The foster parents were so caring and seemed to have sacrificed much for Emma. I felt that she was truly blessed to have had them. We were glad that Emma was happy to go to them and happy to come back to us when we left. I tried to thank the family for what they had done for Emma. The foster mother cried and I was sobbing. I sobbed all the way back to the hotel and then some.
We picked up her passport on Friday and flew to Guangzhou on Saturday. We stayed in the New Victory Hotel a few blocks from the White Swan Hotel and the US Consulate. We spent four days in Guangzhou. Emma needed a medical examination, then an appointment at the US Consulate to apply for her immigrant visa. We enjoyed spending a few more days with the other adoptive families and doing some shopping. We walked through the jade and pearl street, actually a ten foot wide alley. We also walked through an extensive market with fruits, vegetables, live seafood and animals, and all sorts of dried things including bugs and lizards. We found some birthday gifts for Emma for years to come, and gifts for family back home.
When we got Emma's immigrant visa, we said goodbye to the other families and took the train from Guangzhou to Hong Kong. That was really fun. I wish we had waited until the next day and taken an earlier train since it got dark before we arrived in Hong Kong. It was a great way to see a few sights. We went on a tour of Hong Kong the next day and we enjoyed that. For us, we should have done the sight seeing before we got Emma and when we were fresh. We left Hong Kong early on Friday morning flew to Japan. I think I cried on each of the five planes we were on until we got home. I was so overcome with emotion. We had a eight hour lay over at the Narita airport in Japan. Rod watched Emma while I took a nap. We encouraged her to walk and play to get her ready for the night flight to Hawaii. I can't believe I went along with all the night flights we had. She flirted with everyone. She is really outgoing. She won't go to anyone but loves to laugh and smile at them. We had quite a room of admiring people. She was not a happy flier. We had three seats in a window row. She would sleep for a short time and then fuss. Rod was able to sleep but I could not. When we arrived in Hawaii it was an hour before we left Hong Kong. How bizarre! We went through immigration there and got it out of the way. It really was not a big deal except Emma and I were so tired and too hot. I forgot to pack clothes for her for Hawaii! One of the immigration officers welcomed us back home and I thought I would kiss him or cry. We ran out of formula, baby wipes and diapers on the plane so the first stop our friend made was to K-Mart!
We spent five days in Hawaii. We did not sightsee even though we had not been there before. We were so tired. It was very nice to rest and visit with friends. We went to their little church on Sunday morning and that was Emma's first time in church. Instead of a piano, they had 3 guitars and a ukulele. It was very informal, but worshipful.
On Tuesday we were going to see Pearl Harbor and a few things. Early that morning I came down with a horrible flu. I spent so much of our trip sick with bronchitis or asthma and now the flu. Rod took Emma sight seeing. They toured the USS Arizona and the north coast's surfing spots. Then we got on the plane for home. Another all night flight. Emma charmed the people around us when we waited to take off and made their trip miserable by screaming most of the night. She was overtired. Rod and I worked all night trying to calm her down.
About 5:30 am we arrived in Seattle and boarded a small commuter plane for Portland. Oh it felt so good to be so close to home. On the trip to Portland we changed Emma into her Chinese silk pajamas. She looked so cute.
When we arrived in Portland about 7:30 Wednesday morning, friends welcomed us with balloons, flowers etc. It was really fun. Everyone was so excited to see Emma. I am glad we had a welcoming committee! Our close friends who will be Emma's grandparents, since my parents are deceased, brought us home. They blessed us so much that day. They helped us do laundry, fixed us a wonderful lunch, watched Emma while we took naps and stayed until we bathed Emma and put her to bed. I am not sure how I would have gotten through that day without them. Unfortunately they got the flu from me a couple of days later. All the cats are fine but they changed the house-sitters sleeping hours. For some reason they thought she should get up at 4:00 am!
Our wonderful Church sent dinners to us for 7 days and that helped so much. We had non stop company for the next week and a half. Rod's parents from Iowa came out to meet Emma and stayed for a week. Emma went to them and grandma could hold her while giving Emma a bottle. Big brother Ryan came over on Saturday night to meet Emma. He seems to enjoy her. She went to him right away. There are only a few people that can pick up Emma without setting off a loud protest.
It took about three weeks to get her on the sleep schedule from China. We are moving through adjustments. She loves the nursery at church but does not enjoy American food much. She has had her first four shots and discovered she just can't live without her baby pillow. It goes everywhere with her.
We are thrilled to have Emma and can't imagine life without her!
---
WARNING!! If you click on a link and a blank screen opens, then connects to a strange website, especially if you see a robot, CLOSE THE NEW WINDOW IMMEDIATELY!! The links will work correctly after the first time.
If you have questions or comments, please EMAIL me at rodandshellie (at) gmail.com.
Emma's Timeline
Prayers for Elllianna
>a href="elliStory.htm">Elllianna's Story, Unabridged
Ellianna's Timeline
Nathaniel's Story
Journeys of the Heart adoption agency
More China adoption stories
Home Page
Site Map
Where Do We Go When We Die?

---
hit counter