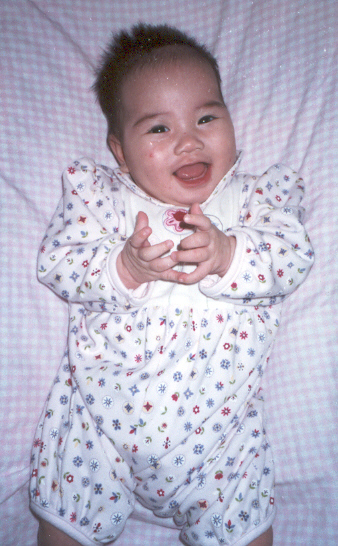 Ellianna's Timeline
by Rod and Shellie Smith
&copy 2001-2022 Rodney A. Smith
All rights reserved.
Site Map
---
March, 1999
17 Returned from China with Emma knowing that one day we would adopt a sister for her.


June, 2000
-- Decided to start adoption process.
-- Decided to adopt from Vietnam.
-- Picked the name, Ellianna.
-- We were told by adoption agency that we would most likely adopt in March, 2001.


July, 2000
-- Decided to use Journeys of the Heart adoption agency.
07 Met with social worker at our home for the Home Study.
17 Fingerprinted by sheriff for criminal check.
18 Mailed I-600A application to INS.


August, 2000
03 Ordered official copies of birth and marriage certificates.
12 Fingerprinted by INS.
18 Submitted application to Journeys of the Heart adoption agency.

September, 2000
20 Certified Home Study Report was completed.
27 Received INS approval for our I-600A in only ten weeks.


October, 2000
-- We were told by our adoption agency that we would most likely get a referral in March, 2001
30 Our dossier officially received by IMH in Vietnam


February, 2001
-- We were told by our adoption agency that it would take an additional 6 weeks.


March, 2001
18 First discussed adopting a boy and a girl. Decided on the name, Elliot.
28 Sent an email to IMH in Vietham to request a boy and a girl.

April, 2001
24 Sent an email to IMH in Vietnam to inform them that we had decided against adopting two children at once.
25 Received a request form IMH to update our paperwork.

June, 2001
08 Nguyen Khanh Ly is born in the Yen Bai province of Vietnam on our 5th Wedding Anniversary.

July, 2001
11 We got the call that Khanh Ly is waiting for us.
17 We received packet of information and pictures of Khanh Ly.

August, 2001
-- Started collecting things to donate to the orphanage.
25 Bought gifts for birth mother and officials at Giving and Receiving Ceremony.

September, 2001
-- Our church and friends donated toys, medicine and school supplies for the orphanage.

October, 2001
16 We received notice that we had to be in Hanoi by October 28th.
17 We mailed our passports and the visa application to the Vietnam consulate by overnight express mail.
18 We bought plane tickets.
21 Forty friends came to our house for dinner and prayer session.
23 On third attempt, packed clothes and donated supplies into four suitcases and a box.
24 Received I-171 from INS. Left for the Portland airport at 2:15 p.m. Discovered that our flight to San Francisco was cancelled. Switched airlines.
25 Left San Francisco at 1:30 a.m. on EVA Airlines.
26 Changed planes in Taiwan and arrived at our hotel in Bangkok, Thailand at 11 a.m., 31 hours after leaving home.
28 Arrived in Hanoi, Vietnam. Stayed at the Claudia Hotel.
29 Went to orphanage at Tu Liem to pick up Ellianna.

November, 2001
01 Went to Water Puppet Theatre to see an artform that dates from the 11th century.
02 Rode in a van for five hours to provincial capital of Yen Bai for Giving and Receiving Ceremony.
04 Took a city tour of Hanoi to see 6th century pagoda and 11th century university. Finished our Christmas shopping.
06 Picked up Ellianna's passport at the police station.
-- Learned that the preceding group of adoptive families had finally received their children's visas after being investigated by INS for up to three weeks.
08 Travelled to Ho Chi Minh City. Met Cox sisters.
09 Applied for Ellianna's immigrant visa at U.S. Consulate. Informed that we were being investigated.
13 Informed by INS that we weren't going anywhere for a week.
22 Celebrated Thanksgiving with other adoptive families.
23 INS finally travelled to Yen Bai to investigate adoption. The local officials were greatly annoyed by the way INS handled the investigation.
29 INS finally approved Ellianna's immigrant visa along with 18 other babies.
30 Arrived home after travelling for 24 hours.

December, 2001
04 Mailed paper work for readoption in Oregon.

January, 2002
25 Applied for Ellianna's Social Security Card.

February, 2002
27 Readoption ceremony with the same judge as Emma.

March, 2002
07 Received Ellianna's Oregon birth certificate.
23 Ellianna got her first tooth and first haircut.

May, 2002
17 Received Ellianna's passport.
19 Ellianna took several steps.
21 Ellianna learned to clap her hands.
CAUTION. If you click on a link and a blank screen opens, then connects to different website, close the window immediately. The link will work correctly on the second try.
Emma's Story
Emma's Timeline
Ellianna's Story
Prayers for Ellianna
Elllianna's Timeline
Nathaniel's Story
Journeys of the Heart Adoption Agency
More China adoption stories
Home Page
Site Map
Where Do We Go When We Die?
---
hit counter